The James and Sharon Maida Geriatrics Institute at Saint Barnabas Medical Center is up and running—and it's a one stop shop tending to older adults' medical and physical needs.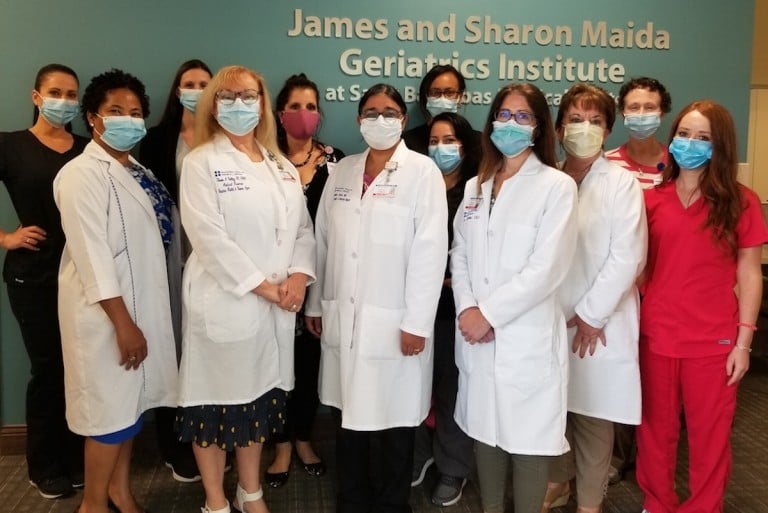 After COVID-19, Saint Barnabas Medical Center (SBMC) debuted the new James and Sharon Maida Geriatrics Institute at the SBMC campus in Livingston. And this brand-new center provides integrated care in one location for those over the age of 65. A multidisciplinary group of physicians and support staff are specially trained to work with the geriatric community and their wide range of physical, mental, medical and social issues, and they work in tandem with you or your loved one's primary care physician to offer the best possible care.
"We are a subspecialty group of family doctors or internists that have additional training after we take or including our fellowship in geriatric medicine," says Theresa Redling, D.O., FACP, medical director of the James and Sharon Maida Geriatrics Institute at Saint Barnabas Medical Center and one of three geriatricians at the center. "We see patients over 65, [but] the vast majority of people are 85 and above. We also see some of our centenarians who remain independent into their hundreds." Working with Dr. Redling, Manisha Grover, M.D. and Emily Bahler, D.O., the Maida Geriatrics Institute also has two geriatric nurse practitioners on staff, a psychiatrist that offers electroconvulsive therapy (ECT) and support staff that includes a social worker, geriatrics pharmacy support, support groups and outpatient care such as the administering of intravenous fluids or IV antibiotics.
In addition to annual wellness visits—"outpatient visits prevent inpatient hospitalizations," Dr. Bahler notes—the Institute staff also helps patients manage chronic conditions that are common as people age, including coronary disease, cancer screening, chronic lung disease, Alzheimer's disease, stroke, diabetes and chronic kidney disease. "We manage people with multiple chronic medical conditions and we identify accute problems that may present more subtly in the elderly," Dr. Redling says.
The Maida Institute specializes in the "4 Ms" of geriatric care. They are:
What Matters: i.e. your individual goals and care so the doctors can align that with the appropriate treatment.
Mobility: "We look closely at functional status frequently," Dr. Redling says. "Falls can be disastrous for older adults, and maintaining mobility maintains independence."
Medication Review and Management, which includes medication reconciliation, where physicians look at how all of a patient's medications interact with each other and if all are still necessary. "Most people over 65 are on three or more medications and as we get older, some people are on 10, 12 or more medications," Dr. Redling adds.
Mentation: Geriatricians examine patients' cognitive impairment—either short term memory loss or something more serious like Alzheimer's—and identify if perhaps some medications or other health conditions could be contributing to these conditions and are potentially reversible.
The Maida Institute is a one stop shop, as it features on-site radiology, audiology, nutritional support, physical and occupation therapy and even a retail pharmacy. The center also conducts house calls for homebound patients, assisted living visits, telehealth appointments and assists in patient transitions from the hospital into rehab centers or the patient's home.
"We are so pleased to welcome this institute at SBMC as a second member of the growing family of the James Maida Geriatric Institutes based here in New Jersey," says James Maida (the first center is at Monmouth Medical Center, Southern Campus). "We are so thankful for the commitment by the RWJBarnabas Health system to comprehensive geriatric care in New Jersey and look forward to our third institute opening soon in Hamilton.
"Comprehensive geriatric care does more than just office-based care," he concludes. "It reaches into the surrounding communities and brings people together."
---
For more information or to make an appointment at the James and Sharon Maida Geriatrics Institute, call 973.322.7636.