With virus cases spiking, we must all stay vigilant to protect ourselves and our loved ones over the holidays and through the winter.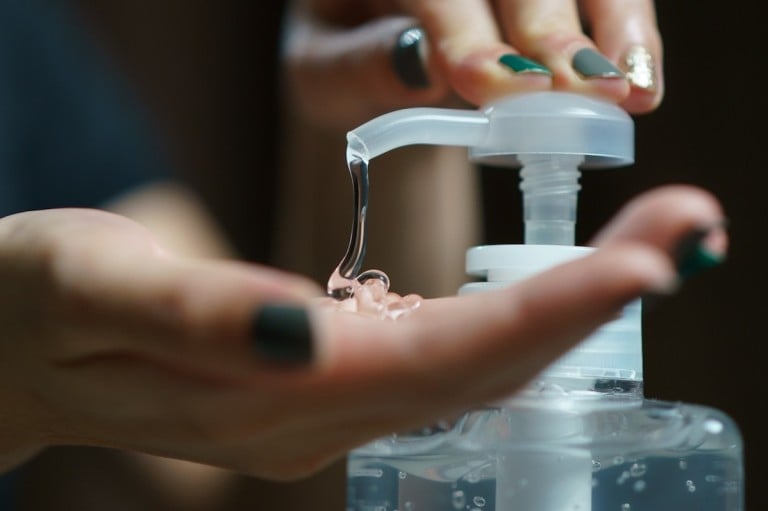 As with everything else during 2020, the holidays are going to be different this year because of the COVID-19 pandemic. And public health experts have warned all summer that the virus is spreading rapidly now that colder weather is forcing us indoors and kids are back at school. With no vaccine yet available, infectious disease experts, like Lincoln P. Miller, M.D., co-chief of infectious disease at Saint Barnabas Medical Center, are telling everyone to err on the side of caution this holiday season and throughout the duration of the cold weather.
"Now that we are moving from outside to indoors, we have to be extra-vigilant about exposures to other people," Dr. Miller says. He is "absolutely" concerned about holiday gatherings occurring between Thanksgiving and New Year's Eve; "It's really important to recalibrate and reconsider get-togethers," he says, "particularly with older family members who are more vulnerable to the disease."
The U.S. Centers for Disease Control and Prevention (CDC) says that people should follow these Guiding Principles when considering a gathering of any kind:
The more people an individual interacts with at a gathering and the longer that interaction lasts, the higher the potential risk of becoming infected with COVID-19 and it spreading.
The higher the incidence of positive coronavirus testing results in the area that the gathering is being held, the higher the risk of COVID-19 spreading during a gathering.
The size of an event or gathering should be determined based on state and local safety laws and regulations.
The CDC ranks risk from lowest to highest:
Lowest risk: Virtual-only activities, events and gatherings.
More risk: Smaller outdoor and in-person gatherings in which individuals from different households remain spaced at least 6 feet apart, wear masks, do not share objects and come from the same local community, town, city or county.
Higher risk: Medium-sized in-person gatherings that are adapted to allow individuals to remain spaced at least 6 feet apart and with attendees coming from outside the local area.
Highest risk: Large in-person gatherings where it is difficult for individuals to remain spaced at least 6 feet apart and attendees travel from outside the local area.
The best way to minimize risk, Dr. Miller says, is to follow the "bubble" concept employed by the National Basketball Association (NBA) and National Hockey League (NHL): Keep everyone in one place, and don't interact with anyone outside your family bubble. "That model works, but it's not practical for a large part of the population," he admits. The next best model is to think of your family as a solar system. "Know who you have contact with, limit the people in your world, including your family, monitor who you all socialize with and who they are socializing with," he says. "Keep track of all your 'worlds.'"
That, sadly, means limited holiday gatherings and parties. "I wouldn't advocate large get-togethers, like at work," he says. "We all have to overcome our natural need to make contact, but at this time it is a necessary thing to do." It also means re-thinking vacations or family trips over the holiday break. The CDC says that traveling increases the chance of getting and spreading COVID-19. "Staying home is the best way to protect yourself and others," it advises.
Unfortunately, these considerations carry over into this winter. Normal life is just not in the cards if we want to protect our health and stop the disease from spreading. "An area I find particularly risky is restaurants," Dr. Miller says. "People don't mask, and we are seeing infections arising from restaurants around the country." He says he would only go to a restaurant that is faithfully observing capacity and distancing restrictions. Even then, "keep your mask on all the time–when ordering, getting food from the server, moving around–and take it off only when you are actually eating," he advises.
Another high-risk area is a movie theater. "I am not an advocate [of going to the movies] at this point," he says. Indeed, almost any indoor activity should be avoided. Dr. Miller says exercise is very important, but only go to a gym that has superior ventilation and is not over-crowded to allow for constant social distancing. And always wear your mask and wash your hands frequently. Better yet, exercise outdoors. Walk or run, cross-country ski or snowshoe or ride your bike as long as the weather allows it.
Dr. Miller also stresses the need to maintain your overall health during the winter. Along with exercise, be sure to watch what you eat, get enough sleep, don't overindulge in alcohol and stay away from recreational drugs, he says. Keep up with your regular doctor visits to control any chronic conditions you may have, and get your flu shot if you haven't done so already.
Mental health will be a concern for many, given the restrictive winter we are facing. "Stay in touch with loved ones," Dr. Miller says, by whatever means you prefer. "I favor verbal communication, the telephone, but not everybody agrees with that," he laughs, including his own children who prefer texting and video calls. For those who experience seasonal affective disorder (SAD), consider getting a light that mimics the sun's rays and has been shown to improve mood. And if the stress of the pandemic becomes unbearable, find professional help. "There is absolutely a role for therapy," he says. "If you have access to that and feel it could benefit you, that's a helpful thing to do."
For additional COVID-19 safety precautions, resources and education, visit our page, What You Need to Know About COVID-19.